North Florida Women's Services
2412 West Plaza Drive,
Tallahassee, FL 32308

Call: 850-877-3183
Monday – Thursday 8:30 AM – 5:00 PM
Friday 8:30 AM – 4:00 PM
Selected Sundays (please call for Sunday dates)
Fax: 850-877-1250
Email: Info@aboutabortion.org
Walk In (Pregnancy Test Only): 2412 West Plaza Drive,
Tallahassee, FL 32308
---
PLEASE NOTE: None of our signs say, "WOMEN'S CLINIC". Do Not Go to any building advertised as a "WOMEN'S CLINIC", that is NOT our building!!
PLEASE BE AWARE…
There are other "Women's Clinics" and "medical facilities" that do not provide abortion services but may lead you to believe that they they do. We strongly believe that the purpose of centers such as these is to misinform, intimidate, and delay women seeking abortion services. The use of Google Maps and MapQuest may lead you to their facilities. In order to prevent confusion regarding our location, please follow the directions below to our facility.
WARNING! THIS IS NOT US!
This is NOT an abortion clinic.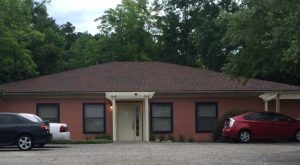 ---
Directions to North Florida Women's Services
We are located at 2412 West Plaza Drive, Tallahassee, FL 32308. If you question whether or not you're in the right place, please give us a call at (850) 877-3183.